[Oakland, CA / November 7, 2023] – The excitement is reaching its peak as we draw closer to the highly anticipated AFRO AI Demo Day by HiiiWAV, just a few weeks away on November 10th. This event marks the grand finale of an enriching 8-week program that has been empowering black artists and creators to harness the transformative power of Artificial Intelligence (AI) and Augmented Reality (AR) in their creative endeavors.
Meet the 8 finalists of HiiiWAV's Afro AI Music Tech Accelerator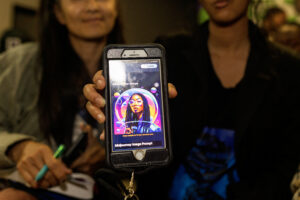 As we approach Demo Day, it's time to shine the spotlight on the exceptional finalist teams who will be presenting their AI-empowered projects. These visionaries are creating projects that redefine the boundaries of art and technology. Here's a sneak peek at what to expect:
1. GooRoo – An AI Assistant for DAWs: GooRoo revolutionizes music production with its AI-powered digital audio workstation (DAW) assistant, promising to streamline and enhance the creative process.
2. Studio X – AI-powered album rollouts: Studio X promises to change the game in the music industry with its AI-powered solutions for album releases, offering innovative ways to engage and captivate audiences.
3. Black Daddy Experience – film production scaled by AI: This team is merging the world of filmmaking and AI, transforming a film experience into an unorthodox form of therapy.
4. Gold Hive – A marketplace for phygital products: Gold Hive is at the forefront of merging physical and digital worlds, creating a service that rewards fans for streaming and curates music bundles for indie artists.
5. YourWorth.AI – AI performance price estimator: YourWorth.AI brings AI to the world of performance art, offering creators valuable insights into pricing their work and services.
6. Choice Scores – AI symphony arrangement and composition: Choice Scores inspires a new era of music composition with AI-generated symphonies by accelerating the production process and pushes the boundaries of creativity.
7. The F.U.N. Manifesto – sustainable eco-system powered by art, culture, & AI: This visionary team is creating an online ecosystem where art, culture, and AI converge to foster sustainable habits.
8. SOL Affirmations – AI tool for emotional intelligence and healing: SOL Affirmations helps users identify their feelings and find healing in personally-tailored affirmations, offering a unique perspective on the role of technology in personal well-being.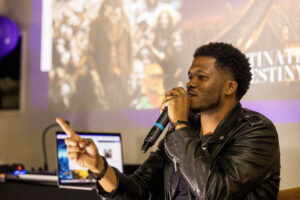 These finalist teams represent the future of black creativity and technology, and their projects showcase the incredible potential of AI and AR in the hands of visionary artists and creators. Demo Day is not just a competition; it's a celebration of innovation, inspiration, and the new narratives that black creatives are forging.
The countdown to Demo Day is on, and the anticipation is palpable. For eight weeks, the teams have been preparing to pitch to a panel of judges made up of community and industry leaders and special guest Lupe Fiasco! They will be judging the teams based on their artistic innovation using AI, multimedia content/performance, market potential, pitch skills, technical proficiency, and potential social impact.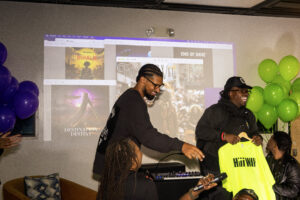 Join us on November 10th at 5:30pm for AFRO AI Demo Day and witness the future of black creativity transformed by AI and AR.